ADUvocacy: Dwellings & Discourse
Untangling the Red Tape: The Housing Crisis and Construction Delays
Blog 8 – 4-5 min.read
November 15, 2023 | By: Iana Lanceta
In a time of soaring housing costs, there is a hidden culprit that often exacerbates the financial burden on prospective homeowners: red tape. The combination of municipal charges and complicated bureaucratic processes associated with new development create an additional layer of expenses while hindering housing supply. Although increased affordable housing is on the agenda of most governments, existing development regulations prevent political leaders from reaching this goal. This article will look at studies that break down the additional costs that homeowners face.
According to a 2022 Ontario study conducted by Building Industry and Land Development (BILD) and Altus Group, municipal approval timeframes for new housing have significantly increased since 2020. These delays prove to be more than just annoying inconveniences and have added approximately $50,0000 to the cost of condominium apartments and $100,000 to the cost of new homes. A far cry from the goal of "More Homes, Built Faster", these inefficiencies slow the housing supply and cause new units to indirectly rack up to $3.30 per square foot. 
These municipal fees and charges have also increased since 2020 by 30 to 36 percent. In fact, nine of the 16 municipalities studied revealed that the combined municipal charges for ground-oriented developments (such as development, parkland, community benefit, and planning fees) now exceed $100,000– with seven municipalities exceeding $125,000 per unit.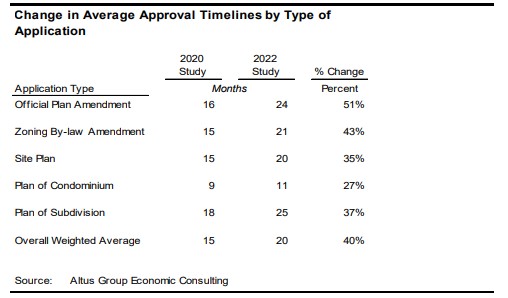 Such long approval times may be indicative of a broader issue with the legislative framework in Ontario. In particular, it seems that some municipalities do not make features that could expedite their processes more transparently available such as terms of references for technical studies. Moreover, while many of these studies are certainly necessary, there is no streamlined standard across regions– with 42 different possible types of studies that can possibly be undertaken. The absence of a development permit system and delegated authority (like those that exist in neighbouring provinces) only further delays these approval processes.
But is it all doom and gloom? Never. There is an opportunity (and, quite frankly, a need) for municipalities to take action. Specifically, the study suggests for municipalities to conduct a thorough review to identify the choke points that constrain municipal staff, as well as to facilitate more coordination with higher levels of government to streamline approval processes. Ontario's Housing Affordability Task Force also urges the Province to limit exclusionary zoning while promoting increased density through mixed housing types.
Now, where do ADUs fit in all of this? Although ADU development cannot totally circumvent restrictions imposed by red tape, ADUs are unique in that they are able to bypass much of the construction time that new homes experience. Most modular and prefab home builders can even bring a turn-key (i.e. finished with amenities) unit to your home in weeks, like it's an Amazon package. So, even if it seems like we are cursed with years long delays – we're not. And until there are some significant changes in approval processes, you can always check out our Resimate marketplace of ADU builders to see what's possible to build on your property. 
---
References
Building Industry and Land Development, & Altus Group. (2022, September 27). Bild Municipal Benchmarking Study. https://www.bildgta.ca/wp-content/uploads/2022/09/Municipal-Benchmarking-Study-2022.pdf
https://www.bildgta.ca/wp-content/uploads/2022/06/BILD-Municipal-Benchmarking-Study.pdf 
Increase Density & Cut Red Tape, Housing Affordability Task Force says. Mortgage Rates & Mortgage Broker News in Canada. (2022, February 8). https://www.canadianmortgagetrends.com/2022/02/increase-density-cut-red-tape-housing-affordability-task-force-says/ 
National Post. (2022, September 28). Municipal red tape and delays adding $100k to cost of a new home in Toronto area. https://nationalpost.com/news/municipal-red-tape-and-delays-adding-100k-to-cost-of-a-new-home-in-toronto-area-study