The Foundational Series
How Does ADUSearch Work? The Core Model
Blog 1 –  2 min. read
March 31, 2023 | By: Frazier Fathers
ADUSearch aims to help its users discover the potential in their own backyard. In particular, this digital tool uses a variety of spatial data and models based on existing and hypothetical bylaws to assess ADU suitability at a lot-by-lot and neighbourhood level. ADUSearch was originally funded by Stage 1 of the CMHC Housing Supply Challenge and incubated at Family Services Windsor-Essex but continues to grow as a project.

The process to create the maps that users see today was two-fold. First, the policy team gathered the bylaw inputs that inform the conditions and restrictions that allow an additional dwelling unit (ADU) to be built. These inputs were organized in a flowchart format and validated both internally and externally. Next, the policy files were sent to the GIS team to be geospatially processed, analyzed, and visualized.
The second part of the process involved building a GIS model by gathering lot, parcel, building footprint, zoning, and street centreline geospatial data. From these and other relevant datasets (e.g., parking, existing ADUs, environmental protection areas, watercourse maps, etc.), the GIS team was able to process cites at the lot level to calculate how many properties could build an ADU.
Both the policy files and geospatial models were merged together throughout this process in a series of gateways that allowed each team to visualize a set of outcomes for a municipality. These visual outcomes now surface as the colour system that can currently be seen on the tool – "Unsuitable for ADU" (red); "Suitable for internal/attached ADU" (yellow); "Suitable but subject to additional considerations" (light green)", and "Suitable and subject to little or no additional considerations" (dark green).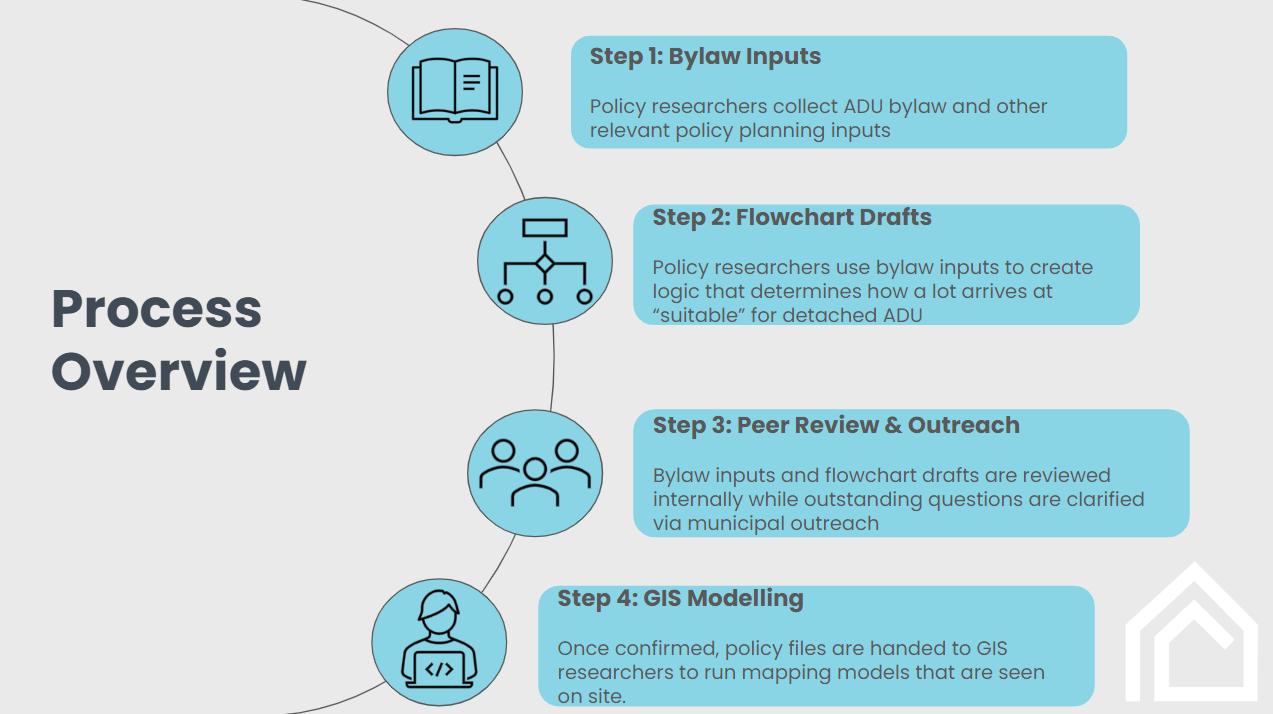 If you were to look at a city like St. John's, Newfoundland, its by-laws currently do not allow detached ADUs, but over 35,000 homes could support an internal or attached ADU (like a basement apartment). In contrast, cities like Toronto, Ontario show that over 260,000 lots could build a laneway or garden suite by right today.
While scale and context matter, and building an additional dwelling on a property is impacted by many factors (some not captured in the ADUSearch tool), such numbers invoke many questions. What if bylaws were more lax? Are ADUs affordable to build for the average homeowner? What about for people to rent? How much more revenue could municipalities earn if there were more ADUs that were taxed?
These questions will be tackled in upcoming blogs, so keep checking back or follow us on Twitter, LinkedIn, Instagram, or Facebook for news about our next releases.