The Foundational Series
Are ADUs Affordable to Rent?
Blog 5 – 5 min.read
July 19, 2023 | By: Frazier Fathers
"Are ADUs affordable to rent?" This is a complicated question that requires you to understand two key points of view. First, why did the property owner build the additional dwelling unit (ADU), and second, what is affordable to the renter?
The second part is easier to answer. Housing affordability is generally calculated based on taking 30% of one's pre-tax income on a monthly basis. If the shelter costs are greater than this value, then the home can be statistically presumed as unaffordable. There are some variations on this calculation, and on ADUSearch we actually use after-tax income for our base calculation as we view this value as a "take home" amount that people can spend, compared to a hypothetical pre-tax amount.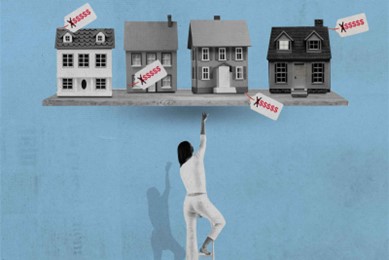 From an income perspective, we leverage the after-tax median income adjusted by inflation for a one-person household as we assume, due to the small size of ADUs, most renters would be individuals; certainly, some renters may be willing to pay more than this threshold for the novelty or convenience of living in an ADU or to reside in an established neighbourhood. Since the primary unit comparable to a detached ADU is likely a one-bedroom apartment, theoretically, many ADUs could be priced in a similar range as comparative apartments.
As for the reason why a property owner is building an ADU, this motivation will likely shape their logic when it comes to setting rent. Building an ADU for an aging family member is very different from an investor adding a unit to an existing rental property. At minimum, we assume that the property owner will not want to lose money on their venture, so we attempted to estimate cost recovery on their detached ADU. This cost recovery is shaped predominately by the construction cost of the ADU that is amortized into the refinanced mortgage on the property. The ADU also increases the property taxes on the overall property so that difference is also assumed to be included. There are several other potential costs (insurance, utility costs – if shared, landscaping/maintenance, etc.) that were not included, so ADUSearch data represents a minimum rental cost threshold. 
What we find, across all of the municipalities we have processed, based on the after-tax median of a single-income household, is that ADUs are $22 above the affordability threshold. Meanwhile, the average rental cost of an adjusted one bedroom apartment average being $37 under the same. In other words, an approximately $50 per month above median income would make ADUs affordable to rent. These small affordability gaps make for a wide variation of ADUs being affordable in municipalities across the country as over 236,000 AD- suitable lots exist in Census Dissemination Areas where rents would be affordable.
Our Data Exports portal contains data on CMHC average rents, adjusted to our modelling date. You can find out more about our financial modelling methodology on our Data Exports portal where a full report is available for download.