The Foundational Series
What is the National Minimum Regulation?
Blog 6 – 4-5 min.read
September 15, 2023 | By: Frazier Fathers
Across Canada, ADUSearch processed approximately 2.2 million residential lots to determine how many of them could potentially build a detached Additional Dwelling Unit (ADU) based on existing bylaws in that municipality.
Planning for Canadian municipalities is managed by local municipalities within an overarching framework set by their particular province. This leads to a range of different standards in the country where in June 2023, a city like Barrie, Ontario had a 7 meter rear setback requirement compared to 1.2 meters in Windsor, Ontario. For other communities, detached ADUs aren't even permitted yet.
But what if they were? What if there was a national least restrictive standard that let you compare a municipality's capacity for detached ADUs? That is what the National Minimum Regulation (NMR) allows us to explore.
At a high level, the NMR is based on a typological analysis of urban areas in the municipalities we have processed. Municipalities were divided at a Dissemination Area (DA) level into three types of regions: urban, intermediate and suburban, with different population densities, proportions of single-detached homes and median lot sizes.
Based on each typology and our national scan of ADU bylaws, we created a set of best in class bylaws for each municipality based on common yet not restrictive bylaws.

Based on the less restrictive regulations, the NMR sees the number of suitable lots rise significantly. For municipalities with existing detached ADU bylaws, there was an average increase of 41% for the number of lots that would become suitable. A city like Winnipeg, Manitoba which allows detached ADUs but in a restrictive manner, sees the number of suitable lots rise from 0 to almost 181,321 in the NMR.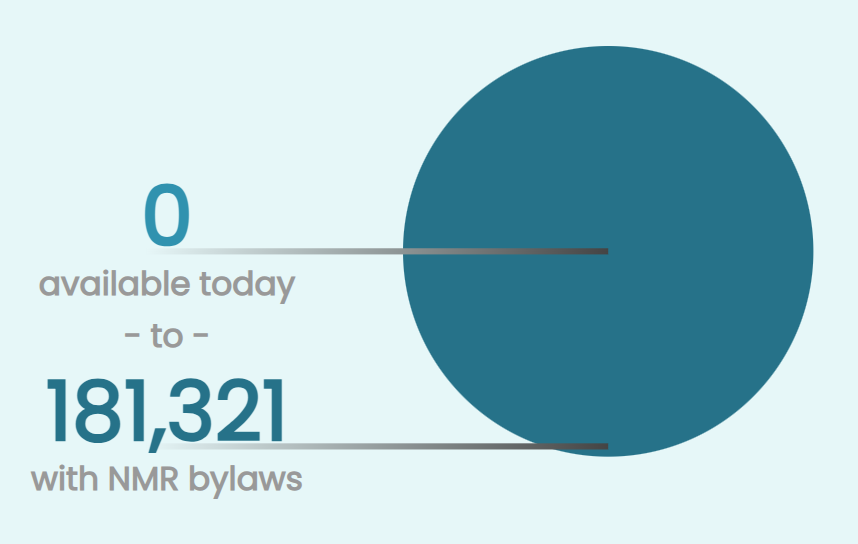 This less restrictive model creates more opportunities for additional units to be built, helping ease housing crunches while creating more opportunities for additional tax revenue. If all of these units were built in Winnipeg, almost $125 million of new and additional revenue would be added to municipal coffers each year through property taxes.
Overall, the NMR outlines what is possible if some of the loosest potential regulations are adopted in a given community. Obviously, this is an extreme scenario, but even if regulations were reduced by even a modest amount, each community could potentially add thousands of units to their potential capacity. Moreover, if even a small portion of this capacity is built, it will create low impact housing in existing neighbourhoods for people who need it.
We have run the NMR on every municipality that we processed, and you can find dissemination area summaries for download on our data exports page. In the same dataset, you can compare data based on existing bylaws and regulations. If you want to learn more about the National Minimum Regulation (NMR) you can download a full report as well.